Lambda
Canary Island masters in fruit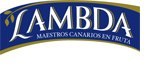 Lambda was created in the Canary Islands in 1996 with the mission of reflecting the special island personality, the magic of the volcanic earth, the sea, the sun, the exuberant nature, the flavors, which awaken thousands of sensations and which are the reflection of our juices and nectars.
From the first day, we have sought to prepare the best possible product, working with a wide range of more than 30 varieties of fruits and vegetables.
We operate in countries across the 5 continents with a wide variety of products including Lambda Selection, Lambda Free and Lambda Bio, and we also have a range designed especially for hotels and restaurants, including the Kipy and Jugocan brands and the bag-in-box format.
The secret to our success is our commitment to quality, which is reflected in the excellent raw material, the design of our packaging plant, modern and elegant packaging and, of course, the flavor, texture, color and aroma of our products, which are natural and have no artificial additives.
These are our fruits and nectars. Thanks to our origin and experience, we are CANARY ISLAND MASTERS IN FRUIT.
Don't miss out on Lambda's latest adverts