VCH Barcelona and Vichy Barcelona Sugar Free Flavors
Sugar-free flavors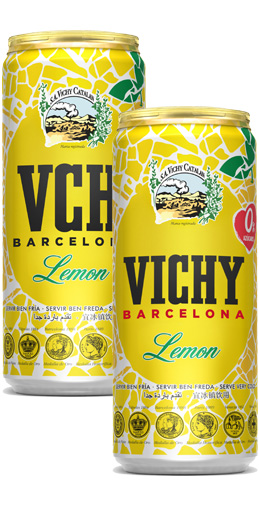 VCH Barcelona and Vichy Barcelona Sugar Free Flavors is a range of flavored waters made with our carbonated water and natural essences. They come in a wide range of flavors: lemon, orange, lemon-lime and mint.
In addition to being made with our natural carbonated mineral water and natural ingredients, they do not contain any sugar or calories, making them a range of totally healthy drinks.
The Sugar Free Flavors range comes in two formats: in a 0.25L glass bottle and in a 0.33L can, which has a protective cap to preserve the product and always keep it clean.
VCH BARCELONA AND VICHY BARCELONA GENUINE
PRODUCTS
VCH Barcelona and Vichy Barcelona Lemon 0.33L can
VCH Barcelona and Vichy Barcelona Orange 0.33L can
VCH Barcelona and Vichy Barcelona Lemon-Lime 0.33L can
VCH Barcelona and Vichy Barcelona Mint 0.33L can
VCH Barcelona and Vichy Barcelona Lemon 0.25L glass bottle
VCH Barcelona and Vichy Barcelona Orange 0.25L glass bottle
VCH Barcelona and Vichy Barcelona Lemon-Lime 0.25L glass bottle
VCH Barcelona and Vichy Barcelona Mint 0.25L glass bottle
VCH BARCELONA AND VICHY BARCELONA
RANGE