Malavella
Over 10,000 years of filtering

Malavella is a natural carbonated mineral water of thermal origin that emerges at 58ºC from the Font de la Mina spring in Caldes de Malavella (Girona). Its mineral qualities give it a unique and original personality. It is a sodium bicarbonated water.
Malavella emerges from the spring with its own carbon dioxide after a long journey lasting over 10,000 years through the depths of the earth, according to the report of the IGME (Spanish Geological and Mining Institute) published in 1996. During this journey, at a temperature of over 100ºC, the water is nourished by the minerals that give it its exceptional properties.
It is best served served chilled in order to fully appreciate its organoleptic qualities. Its quality is certified by international food quality and food standards.
Malavella natural carbonated mineral water comes in an original glass container which won the Gold Best Packaging Award 2002 at the 14th edition of the International Food and Beverage Fair, and in a classic container that won the 2014 Liderpack award for the best beverage packaging.

C
aldes de Malavella enjoys recognized prestige thanks to the existence of its thermal waters, famous since ancient times and used by the Romans for their therapeutic values. In the town there are three main hills, one of which is where the Vichy Catalan spring emerges and another is where the Malavella spring is located (formerly also known as La Mina or Xiberta spring).
As the mine engineer Lluís Marià Vidal explained in his geological report, the spring was discovered in 1829 when a mine was opened (hence one of the names of the spring) to dry up a field that was too damp to grow crops.
In the mid-19th century, La Mina was owned by Tomás Xiberta, who in 1841 transferred a part of the land where the spring was located to Ramon Font i Roura, a neighbor from Canet de Mar. Ramon Font established a series of agreements with various residents of Caldes to use La Mina's water.
It was not until 1940 that a new company was created dedicated to the exploitation and marketing of the water from the Font de la Mina, a company called Cardoner, Soler, Cugat y Compañía, S.L., which a year later changed its name to Malavella, S.L., a name that is also shared by Malavella carbonated water.
The company Malavella, S.L. strengthened its position during the fifties and sixties in the difficult natural sparkling mineral water market, and it was not until 1975 when the company was restructured to create Malavella, S.A., a fact that allowed Vichy Catalan, S.A., to become a shareholder in 1979.
Vichy Catalan's stake in the company gradually increased until 1986 when it acquired control and introduced new business visions in terms of company management, marketing and the distribution of its products. The brand image of Malavella water also changed to adapt to the new features of the society of the eighties and nineties, which especially valued the quality of natural products. More oriented towards consumption as table water, Malavella is a carbonated mineral water with an excellent positioning, not only due to the quality of its natural carbonated mineral water, but also due to its packaging, which has received awards and international recognition.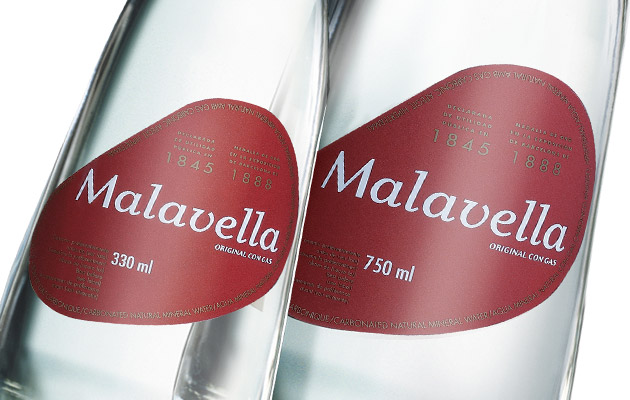 M
alavella, in 0.75L and 0.33L formats, offers an avant-garde design inspired by the characteristic shapes of old water containers. This contrast achieves a pure, elegant, young and very suggestive bottle profile. It also highlights the bold design of the label as a minimalist allegory for the mineral richness of this excellent water.
Malavella sparkling 0.33L
Malavella sparkling 0.75L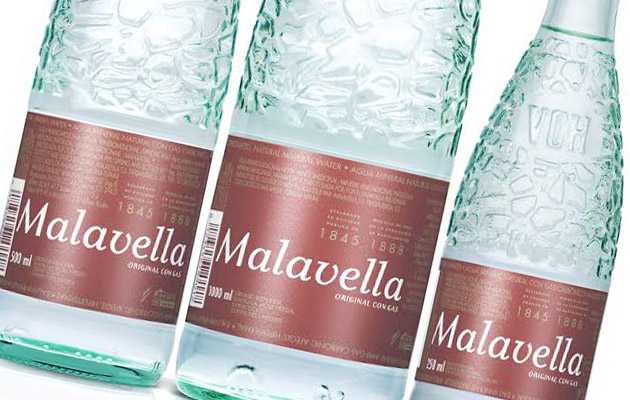 Malavella Classic comes in a bottle inspired by the work of Antoni Gaudí and is ideal for the hotel and restaurant channel in 1L, 0.5L and 0.25L formats.
Malavella Classic sparkling 0.25L
Malavella Classic sparkling 0.5L
Malavella Classic sparkling 1L